Making Beats on the Sunny Side of the Alps
Wednesday, May 19, 2021 1:13 PM
A guide to the Slovenian beat scene
The Slovenian beat scene is an intergenerational affair that includes high school wunderkinds as well as well-seasoned veterans—DJs, producers, labels, collectives and events that make up its nexus. Most of the scene's leading figures regularly collaborate, release music on each other's labels and perform together. It's a tight-knit community with shared values and a common mission to promote Slovenian beatmakers, rappers and hip-hop culture. All of this wouldn't be possible if it weren't for a few passionate hip-hop heads who've helped build the scene, educate audiences and provide the infrastructure and knowledge for new talents to shine. What the Slovenian beat scene may lack in numbers, it makes up for with camaraderie.


Due to advancements in digital technology, there's been a growing interest in beatmaking among the young urban music enthusiasts. This is why in 2019 and 2020 the centre for urban culture Kino Šiška in Ljubljana hosted the beatmaking and dance competition 7 TO BEAT, bringing together the crème de la crème of up-and-coming young producers and dancers from Slovenia, Croatia, Serbia and Austria. Like in the case of the many organisations and initiatives such as Each One Teach One, Radio Nula, DJ Telovadnica, Urbana Scena Ljubljana and Urban Roof, which organise various workshops for kids and teenagers and promote hip-hop culture, the driving force behind the project is pure enthusiasm.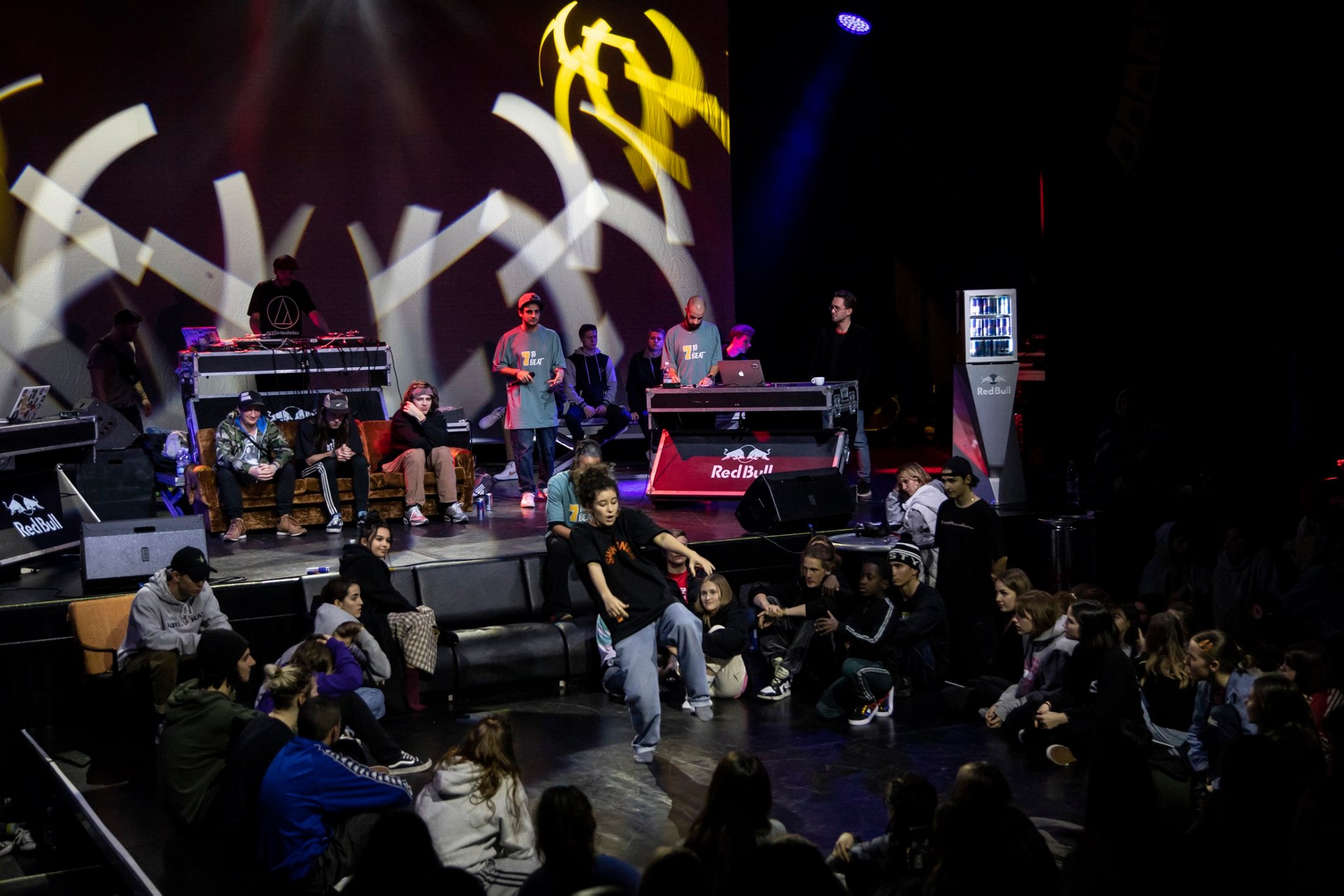 7 TO BEAT / Photo: Urška Boljkovac
It's impossible to talk about the Slovenian beat scene without mentioning its most famous representative—Gramatik. Since the release of the successful debut album Street Bangerz Vol 1 (2008), he's lived and worked in the USA, developing his beats from chill out hip-hop towards a more banging club sound and later becoming a household name on the American scene. In the meantime, the domestic scene's kept on developing. Most of the creativity is centred in the capital Ljubljana, but there are microscenes on the Slovenian coast, the second largest city Maribor and more remote towns as well.

Established in 2002, one of the most active ambassadors of the scene is the small independent record label rx:tx. With a roster including names like .čunfa, Nikson, Borka, Matter, Tsujigiri, kleemar and Splinta, it's considered a bastion of forward-thinking beats, IDM, trans-genre electronica and basically anything weird. As a launching platform for regional and global talents with a flexible curatorial approach, it's main quality is that it can surprise you again and again.
"We're not a regular label with a roster, more like a platform," explains Borka, one of the label's A&Rs and a key figure of the domestic scene. "We don't do publishing and we don't take care of our artists in the traditional sense like promotion and booking. Rx:tx helps with the design, ideas, mixing and mastering, providing the know-how and "creative direction", even though I hate that word," he adds. "There's no half-baked releases, and this is essential. We help our artists fully develop their projects as envisioned."

Occasionally, the label organises club events in Ljubljana, hosting world-renowned beatmakers and producers like Ras G, Dean Blunt (Babyfather), Daedelus and Kutmah. "We try to bring to Ljubljana the most relevant artists that are mostly, though not only, active on the beat scenes," says Borka. One of the events of paramount importance for the domestic scene is the annual rx:tx summer gathering in Ljubljana where DJs, producers and fans from all around Slovenia meet up for a celebration of the art of beatmaking. To get a better idea, listen to "rx:tx Gathering 2", a showcase compilation with 15 beats from 15 different Slovenian artists.


Rx:tx recently released the EP "Same Day Delivery" by nibo, a collaborative project between veteran DJ, producer, music journalist and hip-hop all-arounder Borka and 18-years old DJ, producer and hip-hop dancer Nikson, one of the most promising newbloods. Their beats are heavy, slow, thick and undercooked in the best possible way, making "Same Day Delivery" one of the most outstanding Slovenian beat releases in recent times.

"I feel more comfortable when I produce with someone else," Nikson says about the project. "I've learnt about new approaches to music-making, the importance of arrangements, the building of tension through time and the impact this has on the listener. I was really inspired by Borka's approach to sample layering since I obviously lacked some skills in this sphere before our collab," he adds.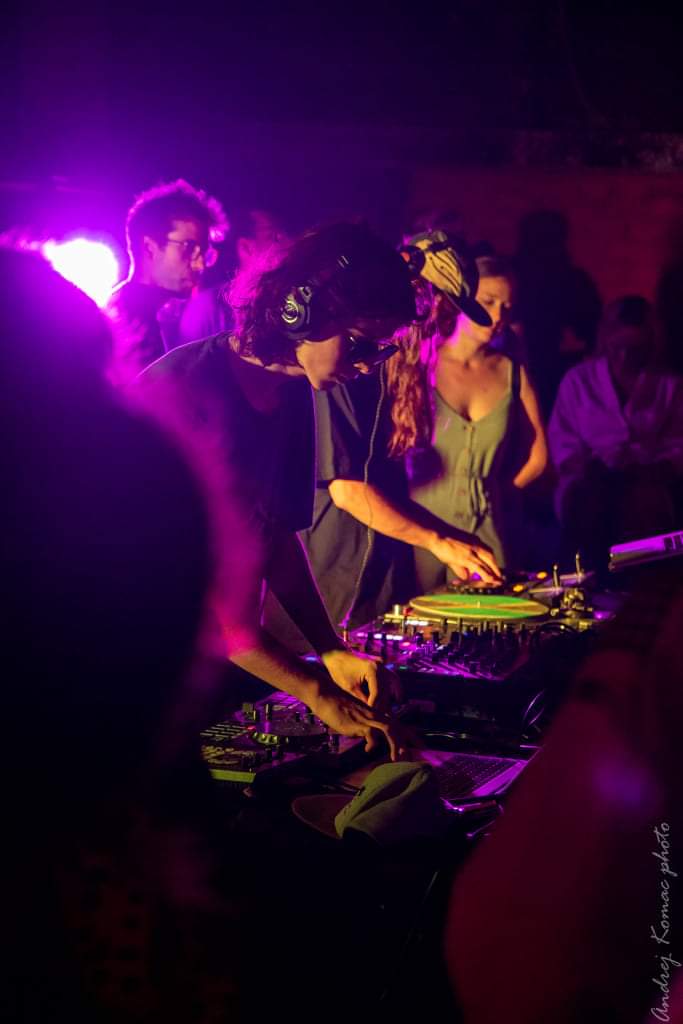 Nikson / Photo: Andrej Komac

"In some sense, this partnership opened my ears. I've learnt that you can do things in the "wrong" way and thus explore sound manipulation," Borka describes the experience of working with Nikson. "Of course, there are rules, but it's better to let them go. Even stuff that seemed impossible at first, you somehow make it work. You don't have to obsess over every detail, it's better to work with a flow and finish your tracks before they start getting on your nerves," he contends. "I finally know how to make compromises. I used to refine my tracks ad nauseam, but now I can let things go more easily. When Nikson said it works, that was a done deal."

A true visionary, the youngster's driven by curiosity, exploring the unknown, the undiscovered and the unheard. "I'm inspired by the sheer power of music and all the emotions it can trigger, from simple mood-lifting to pure ecstasy at a rave. But I'm also driven by the urge of self-expression and the need to create something artificial from nothing." Even though the music industry has been at a standstill since March 2020, he believes that the Slovenian beat scene is gradually taking shape. "If this pandemic ever ends, my wish is to further contribute to the development of our scene," he's hopeful.


From time to time, rx:tx collaborates with Big Nose Ent., a Ljubljana-based independent record label and shop founded by producer, MC and hip-hop multitasker SunnySun. Since the opening in 2019, the shop's become a place of worship for music lovers, offering a wide selection of vinyl, DJ gear and other products. The Big Nose label represents Slovenian rappers such as NoMAD, Mrigo and Vazz, but SunnySun also produces for MCs from the Balkan region.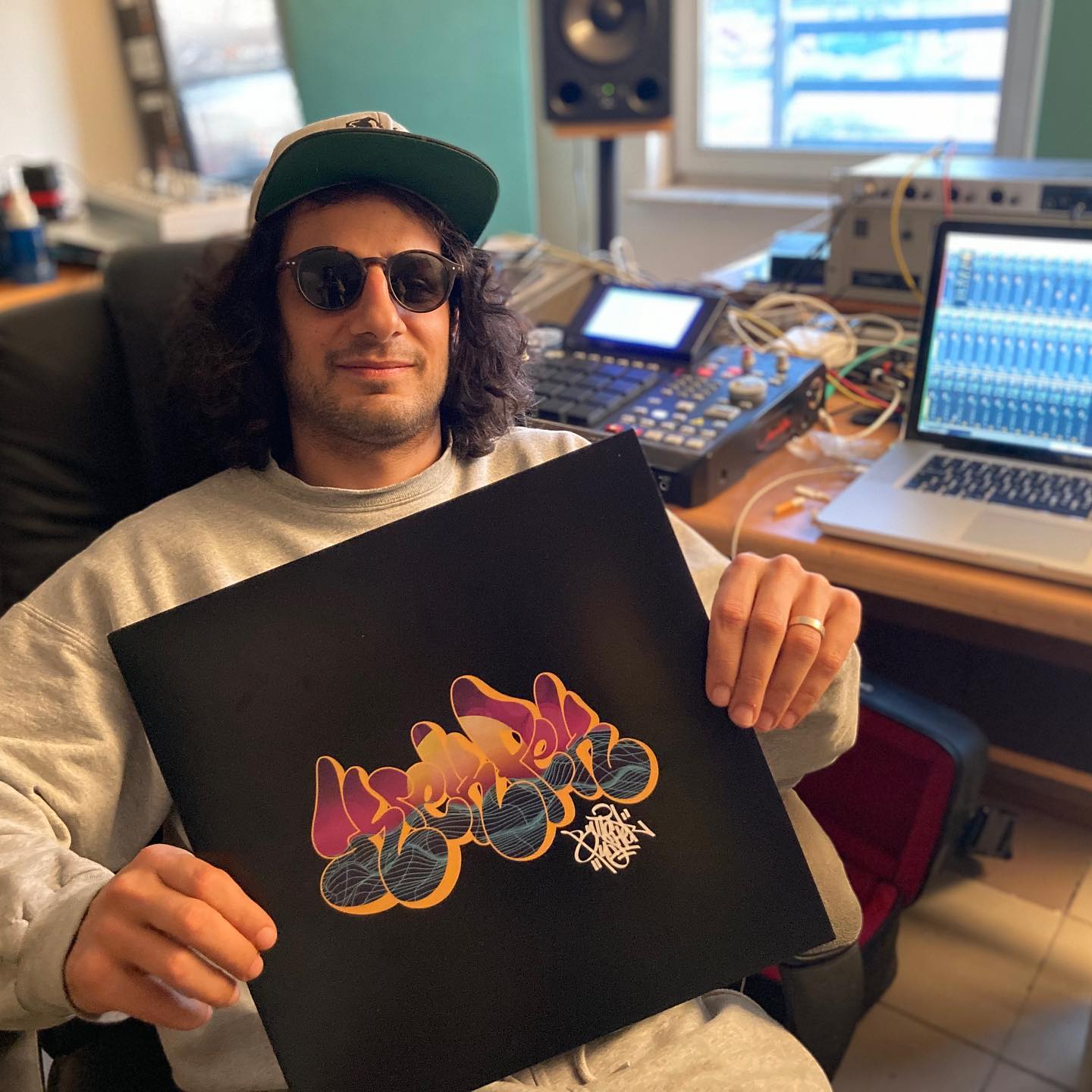 SunnySun / Instagram
Back in 2019, he released "Raperska posla", a collaborative album that included 11 MCs from Slovenia, Croatia and Serbia. From time to time, he still manages to surprise us with his solo releases. Last October, he self-published "Moon Shift EP", a collection of four breakneck juke/footwork/trap bangers. But if you're more interested in his hip-hop endeavours, don't miss his 7'' series "Sunstrumental Vol.1" and "Vol. 2", a tour de force in raw and dirty MPC programming.




Another important player from the Ljubljana scene is the tiny d.i.y. venture Beton Records, home of some of the most exciting Slovenian hip-hop and electronic music producers like Blaž, Šuljo, N'Toko, Slowmotion Livestream, Frankly and YNGFirefly. Its head honcho Jizah, host of the Rhyme Kickers radio show on Radio Študent and hands down the biggest connoisseur of Slovenian hip-hop, believes that the beat scene is practically the only promising scene in Slovenia in terms of engagement, productivity and new talent.
"Most other scenes lack intergenerational exchange and remain stuck in the past," he's critical. "We have a broad spectrum of beatmakers, though, from classic old-school loop producers to the new school of creativity. For example, I'm a big fan of Nikson and Kesich. Still, it's a niche scene that's mostly centered around the labels rx:tx, Beton and, to some extent, Big Nose. There's no sign of interest from major labels, which is weird since all three majors (Sony, Warner, Universal) already have their own beat/instrumental hip-hop imprints such as Atlantic Chill," Jizah explains.
In 2020, the label celebrated its 10th anniversary with a series of singles from various Slovenian producers and rappers (Mito, BAGS, Borka, Kesich, etc.) and two intriguing full-lengths. "We don't have a specific philosophy," says Jizah when asked about the label's strategy. "We just want to provide our artists their first audience. We look for quality, though not just for beatmakers but other engaged producers as well. The plan is to cultivate our central roster with Blaž and Šuljo… and to add new names to the catalogue."
The label's most recent releases include debuts from the young talented DJ, MC and producer YNGFirefly as well as Frankly and Slowmotion Livestream—two experienced musicians with their own distinct aesthetics. "We want to encourage interesting producers to leave their caves, help them, give them a chance to present their music to an audience, provide the basic know-how and some guidance," he explains. Nevertheless, he's realistic. "I'm aware this is niche music, and it's difficult to present it in a live context, but we'll continue to look for creative, non-generic producers who don't just follow trends and have their own styles," he concludes. Listen to the debut album "Bad Judgement" by the secretive bassist and producer Frankly if you want to learn what happens when a sworn metalhead starts making beats.



Operating from the Slovenian coast, Trite Records is a regionally focused collective, multimedia platform and label with an open genre policy. The label's 2019 compilation "Herbarium", which includes inspired hip-hop beats and experimental electronica from 11 Slovenian artists such as Whynnel, Rochwald, antik and Mitac, is definitely something you shouldn't miss.



One of its co-founders is the talented DJ and producer .čunfa (also known under his dubstep moniker Kanomotis). As a teenager, he started spending more and more time with his friends in dusty rooms filled with ganja smoke and production gear, which prompted him to buy a Roland SP-404 and gradually develop into a beatmaking devotee. He's originally from the Slovenian coast, but he's been studying in Ljubljana for the past six years. "I've been spending little time on the coast lately, but I know there are some people making very interesting stuff, and they don't even have a name or a Soundcloud profile," .čunfa reports.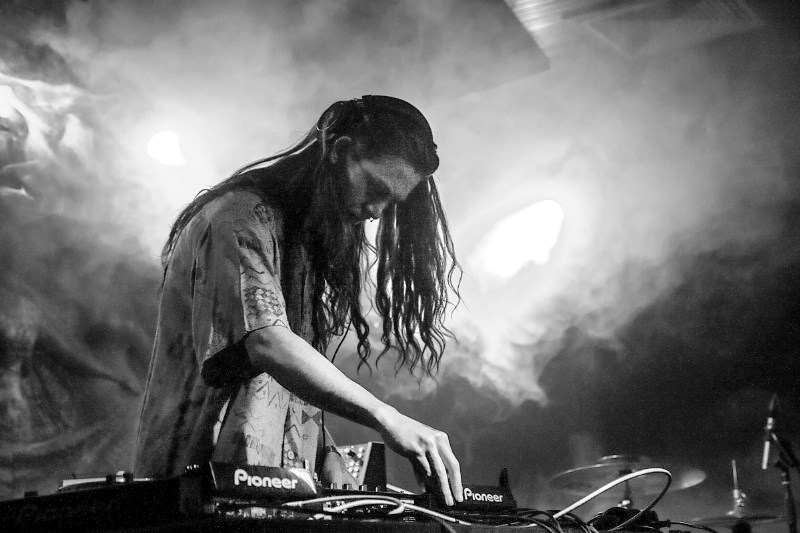 .čunfa / Photo: Natalija Gajić
When asked about the relationship between the labels Trite, rx:tx and Beton Records—he's released music on all of them—he says that they're rather different because of the people that run them. "They do have a lot of things in common, though," he continues. "If we look at the scene in Ljubljana from high above, we could say that all three are dedicated to practically the same audience. But I think our label is the outsider here, both because we are from a different generation and because we try to push the new 'millenial' scenes," says .čunfa.
Reflecting on the future of the beat scene, he's happy to see there're many new faces out there. "The new generation doesn't give a fuck about genres, so it'll be interesting to see what happens in five years time and hear what they're gonna produce. From trap and hip-hop to house and bass, all from a single producer, this is the shape of things to come," he muses. Make sure you listen to his mini album "Missing the Point" (rx:tx, 2020), a world of scattered rhythms and subtle melodic echoes that manifests his curiosity and interest in different approaches and styles
One such youngster as characterised by .čunfa is definitely Luka Kesič aka Kesich, an inspired hip-hop dancer and producer, who's been regularly uploading beats on his Soundcloud. He contributed the brief but sweet track "Metro City Taxi" to the rx:tx beat compilation. Check it out below.



When we talk about beatmaking, we must also mention the rx:tx affiliate Žiga Murko. Though not affiliated with the above-mentioned labels, the trombonist, composer, singer and producer is a household name of the domestic beat scene. Recently, he's been mostly making neo-soul radio hits, but from time to time he still delivers a proper beat tape. In April, he released "Toasty EP" on Autumn Theory Records, a pack of signature lo-fi hip-hop beats filled with tape hiss and late night nostalgia.
While the scene in the second largest city Maribor doesn't gravitate around a specific label and the fanbase is pretty limited, there are many hip-hop aficionados, young and old, who contribute massively to its development. The before-mentioned Beton Records-affiliate YNGFirefly is one of its key protagonists. Aided by local veterans like the rapper MITO (his mate from the experimental hip-hop outfit OYGN) and experienced producers like Šuljo, this music whizz-kid has become one of the driving forces behind the new school of domestic beatmakers. He's also the MC and producer of the trap pop collective .travnik, which is currently working on its debut LP—keep your eyes peeled on this one.

His critically acclaimed debut album "ANOY", released on Beton Records in December 2020, is a daring collection of abstract IDM/hip-hop beats in the vein of Flying Lotus and the Brainfeeder gang—hazy electronic dreamscapes, all underpinned by his woozy kicks and snares. "I see my debut as the beginning of my serious involvement with music-making," contemplates the young producer. "I can now say that I'm more of a musician and not just someone making beats for rappers. I hope I can make more similar instrumental albums as well as beat tapes in the near future," he enthuses.

YNGFirefly
"It's hard to talk about the Maribor beat scene. Not many people are interested in this kind of music," he describes the situation in his hometown. "Since I started performing three years ago, there hasn't been a single beat event in Maribor. Actually, events of this kind only take place in Ljubljana," he adds. "We have a lot of talented beatmakers here, but they can't be compared to rappers in terms of popularity. I believe this is because people can more easily relate to vocal hip-hop."

When it comes to the future of the beat scene, he's an optimist. "There're so many new talents out there and everyone's doing their own stuff," he explains. When asked about his role as a promising young beatmaker, he's modest. "My role, and similarly that of everybody else, is to keep the scene alive and contribute to its development with our visions. We must share our experiences, support one another and move forward together."




Many more noteworthy names from the beat scene can be found in smaller towns around the country. Despite the young age, the skilled beatmaker EmiljoAC from the small town of Bistrica ob Dravi has been making wicked beats for Gramatik's lowtemp label and famous rappers (Emkej, Trkaj, Nipke, Burke) for the past seven years, releasing hundreds of high quality beats and beat tapes. Back in March, he released "セブンスターズ刺客", a compilation of 13 exclusive beats with an experimental touch.




The Tolić twins from the city of Velenje have made a name for themselves as technically skilled DJs with their flamboyant mixes, connecting the dots between all corners of hip-hop history. Known under the moniker Toljo, they've been discretely uploading their music on Soundcloud for the past eight years. Last year, they released the track "SK500" as part of the Be10n single series—a sun-soaked and groovy tribute to the LA beat scene.



Another name worth remembering is the prolific beatmaker Erak from the town of Domžale, who's recently produced a series of banging hip-hop, trap and electronic tracks for respected rappers like Emkej and promising youngsters like Arne and Žena. Listen to his massive beat for Žena's track "KESIMI" below.




There's also the 21-years old beatmaker and music producer Jurij Jovan aka m4loo (also known under his techno moniker MRK), who's been producing music for the past three years. Back in 2020, he came in second in the beatmaking contest 7 TO BEAT, but recently he's decided to take things even further, announcing on his blog that he'll be making three beats per day every day …. until eternity.


Hailing from the industrial town of Jesenice, Jaka Košir aka Kushadelic is a young producer, who also spits verses under the pseudonym JKush. He got involved with music a few years ago because of some of his DJ and rapper friends, and after a period of trial and error he started uploading his own tracks, beats and beat tapes. The list of his collaborations includes young rappers from Slovenia, Bosnia, Croatia and the USA, but currently he's most excited about the upcoming album by Burke, a long-time representative of the coastal rap scene, for which he produced all seven tracks.

"I think the Slovenian beatmaking scene is healthier than ever. There's more and more young and old artists, so much quality! Like Nikson, for example, he's got a sound of his own," he shares his views. "I'm also very grateful to SunnySun. I think he really contributed a lot to the scene," he continues. "Events like 7 TO BEAT where young beatmakers get a chance to meet and connect are invaluable." If you're looking for some quality head-nodding material, his recent beat mixtape "Plant Music" is the place to go.


As with every other underground scene, the Slovenian beat scene has its own problems, for example, the underrepresentation of women and poor media coverage. "If you ask me, the Slovenian domestic scene as well as the LA beat scene are both just constructs," muses Borka. "Which doesn't mean there are no junctures, practices and activities. We have youngbloods like Kesich, Shao (Croatian producer living in Ljubljana), Nikson, .čunfa and YNGFirefly… More than enough talent for a continuous development. The question is just how long will these youngsters persevere, it all depends on it," he adds. "The music output is fine. I see a bigger problem in event organisation. The younger generations seldom turn in this direction, and often they do it superficially, or they only target their circles. We'll definitely need a young promoter with a vision in the near future, who'll look at things from a wider perspective and who won't accept too many compromises," he concludes.
Jaša Bužinel
Jaša Bužinel is a freelance music writer specialising in electronic, experimental and avantgarde popular music, who writes for The Quietus, Mladina, Odzven and Radio Študent, co-hosts the shows Partijska linija and DJ Afterparty on Radio Študent, collaborates with MENT Festival, Tresk Festival and Moonlee Records, runs the Cosmic Sex event series and the annual forest rave Monade and DJs whenever its possible. Find him on Twitter.
Cover photo: Urška Boljkovac